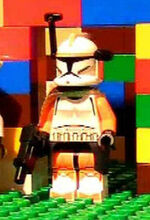 Captain Norris
is a clone captain and stars in the Base 327 
episode of the same name
. He is a spoof of Chuck Norris, and even has his own list of "facts" about him. When
Fox
insulted him behind his back, Captain Norris quickly showed up to the base to make him pay for it painfully.
He is the only one who can call ARF "Arfy".
He can kill droids by looking at them.
He can slam a blast door.
He doesn't have a chin under his beard, only another blaster.
He doesn't sleep he waits
His cousin is Chuck Norris
Ad blocker interference detected!
Wikia is a free-to-use site that makes money from advertising. We have a modified experience for viewers using ad blockers

Wikia is not accessible if you've made further modifications. Remove the custom ad blocker rule(s) and the page will load as expected.