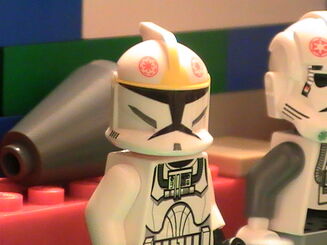 George is a clone pilot in the Base 327 series. He thinks he still lives in medieval times, and acts like a knight all the time.
One day, Red Squadron found him in the desert muttering about dragons and knights and brought him back to the base. He stayed there ever since.
When he sat on Santa's lap, he asked for medieval stuff and a "Fangly new I-Pad"
"Happy Halloween!" was his first appearance. He also appears in the following! He is one of the oldest clones there!!!!!!!!!!!
Appearances
Edit
The new guy
Mystery at base 327 part one
Mystery at base 327 part 2
Ad blocker interference detected!
Wikia is a free-to-use site that makes money from advertising. We have a modified experience for viewers using ad blockers

Wikia is not accessible if you've made further modifications. Remove the custom ad blocker rule(s) and the page will load as expected.