Happy Halloween!
is the eighth episode of the
Base 327 series
and the first Halloween special. The Commander holds a costume contest to see who has the best Halloween costume. He wins. It was released on October 31, 2010.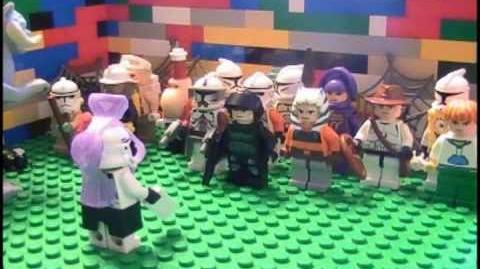 The Costumes
Edit
The Commander as Tinky Winky
The New Guy as Commander Cody
Fox as Commander Fox
The Janitor doesn't dress up.
The Jet Troopers as each other
George as a knight.
Rico as Indiana "Clones"
Red as a regular person
The Excited Clone as Spongebob.
Creepy Steve as the Grim Reaper.
We also see clones dressed as Ahsoka Tano, Santa Claus, a fireman, a rebel trooper, and a bounty hunter.
Ad blocker interference detected!
Wikia is a free-to-use site that makes money from advertising. We have a modified experience for viewers using ad blockers

Wikia is not accessible if you've made further modifications. Remove the custom ad blocker rule(s) and the page will load as expected.