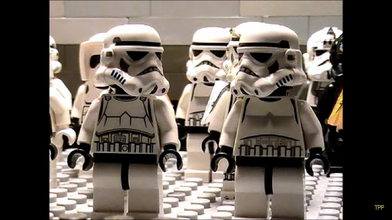 TK-139, also known as Roy's Friend (due to the fact that they are actual friends) in Imperial Base 327. He does not have a confirmed specific nickname but is called "Roy's Friend" in the credits of the episode, so that is the current confirmed name of the character. Click HERE to know about Roy.
TK-139 wears basic old-styled Storm-Trooper armor and is voiced by LEGOSANTAMOSS on YouTube. TK-139 wishes to go to the Death Star, or at least to the Outer Rim, as he has never been there. However his job is to become a Senate Guard on Coruscant. TK-139 says that that is the lamest job ever. He also gets jealous of TK-140 when he gets sent to the Death Star. He is not shown again throughout the episode.
Ad blocker interference detected!
Wikia is a free-to-use site that makes money from advertising. We have a modified experience for viewers using ad blockers

Wikia is not accessible if you've made further modifications. Remove the custom ad blocker rule(s) and the page will load as expected.