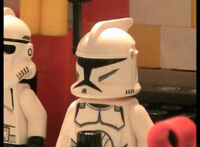 Squeaky
is a clone with a high-pitched voice. He has made a few appearances, including 
Christmas at Base 327 2
 and
Base 327 and the Dark Halloween
. He may have a high voice, but he can throw cookie dough. He is also likely a bad cook because he tried to put egg shells in cookie dough.
Squeaky makes a small appearence in Base 327 and the Dark Halloween. At the beginning he is giving out candy to little clones Trick-or-Treating. He says, "You all have great costumes guys! Here's one for you, one for you, and one for you!" (He leaves out the Ewok.) "Thank you!" they reply except for the Ewok. "Have a good night!" The Ewok just sits there and starts crying because he didn't get any candy. The Commander tells Squeaky to say they all have great costumes and Squeaky says that he does. Then he asks if he has to, even if they have crummy costumes and The Commander says to still do it.
Squeaky is also known as "the Announcer/"Next" guy" in Base 327: The New Guy and Christmas at Base 327 4, among others. He has many unvoiced appearances, such as The Base 327 Valentine's Day Extrav-O-Ganza!!! and Happy Thanksgiving!.
Ad blocker interference detected!
Wikia is a free-to-use site that makes money from advertising. We have a modified experience for viewers using ad blockers

Wikia is not accessible if you've made further modifications. Remove the custom ad blocker rule(s) and the page will load as expected.