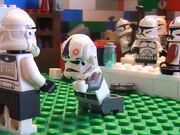 The AT-AT pilot presumably drinks eggnog and for sure introduces people to it. His main appearances so far is in Christmas at Base 327 3, as the clone that introduces O'Brien to eggnog. This may or may not be the "sorry" clone from the kitchen after the large food battle in Christmas at Base 327 2. An AT-AT pilot is also present while welcoming the New Guy to Base 327.
Note: The AT-AT pilot is not to be confused with The V-Wing pilot.
Appearance's
Edit
Ad blocker interference detected!
Wikia is a free-to-use site that makes money from advertising. We have a modified experience for viewers using ad blockers

Wikia is not accessible if you've made further modifications. Remove the custom ad blocker rule(s) and the page will load as expected.