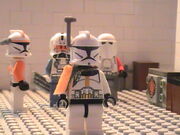 The Base 326 Commander is spotted in The New Guy, when he rings the door bell and delivers Base 327's REAL New Guy. 
He is a good runner.
He is poor and cannot buy a speeder
He is only shown in two epsoides of base 327.
he is the cousin of the base 327 commander.